Japanese: 鋼の錬金術師 FULLMETAL ALCHEMIST (Hagane no Renkinjutsushi: Furumetaru Arukemisuto)
Produced by: Bones Studio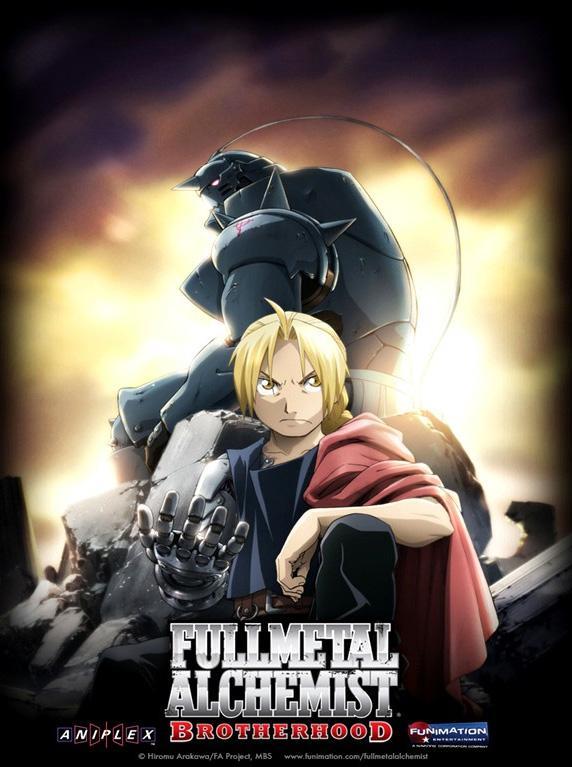 Fullmetal Alchemist: Brotherhood tells the story of two brothers, Edward Elric and Alphonse Elric, who lose their mother to an incurable disease. With the power of alchemy, they use taboo knowledge to resurrect her. As a result, Ed loses his right arm and left leg, and Al loses his entire body, with his soul being bonded to a suit of armor. FMAB follows their journey as they attempt to return their bodies back to normal, with the help of a legendary object called the Philosopher's Stone.
This is an anime series adapted from the Fullmetal Alchemist manga by Hiromu Arakawa is the second anime television series the first being 2003's Fullmetal Alchemist. Produced by Bones Studio, the series is directed by Yasuhiro Irie and written by Hiroshi Onogi. Unlike the previous adaptation, Brotherhood is an adaptation directly following the original events of the manga.
At its core, it is a story of simply wanting to regain what the two brothers have lost, both physically and spiritually. I have to admit, that FMAB kept me intrigued after every episode. The plot is very effectively layered. It tugs at your heart because it is about power, beliefs, love, courage, brotherhood and how pain can run like a passionate theme through life; something all humans can relate to and are portrayed to be really touching.
Alchemy is based on the Law of Equivalent Exchange… The price of even a failed human transmutation was enormous… It cost my brother his left leg… and it cost me my whole body… Do you see it? My brother drew that with his own blood. His leg had been taken. He was bleeding. I can't imagine the pain he was in.. But through all that, he still gave up his right arm to transmute my soul, and bonded me to this suit of armor. Now, I just want to help him get his body back to the way it was. He wants to find a way to get me back to normal, too. It won't be easy. We might even get killed along the way. But that's the path we chose… All we can do is keep moving. 
— Alphonse Elric
What I liked most about the anime, was the treatment of the characters and how beautifully they are woven into the story line. The characters are very awesome, you can feel connected and attached to them even long after the series has ended. Yes, I'm talking about myself being so attached. 😀 The way they overcome the trials they face, while at the same time, putting others before themselves; I can feel their pain. Each of the characters has a past and a goal they look forward to. They made me cry at their sorrows and smile at their accomplishments. You can make your tissues handy, a precaution for some tear-jerking moments. The series is very emotional but there are also plenty of light moments in between so the story doesn't get too heavy.  Mostly just Ed being called "little/short" because of his height. Haha The plot is very interesting and mind provoking. The entire series, to put simply, is absolutely brilliant. ❤
I think a big part of FMAB being so well-like is the fact that it can appeal to a wide range of audience. It is one of the classics. It has an amazing plot, rich set of characters, and good message.
If one wishes to obtain something, something of equal value must be given. This is the law of equivalent exchange.
That's why I highly recommend Fullmetal Alchemist: Brotherhood. Let Ed and Al's adventures transport you to another breathing world which hopefully will enchant you as much as it has done to millions across the world. Re-watching it for several times only enhances the experience for me.
If you believe the possibility exists for getting your bodies back, you should seek it out. Keep moving, whatever it takes. Even if the way ahead lies through a river of mud.
—Roy Mustang
PS. A Fullmetal Alchemist Live Action Movie is set to be released on December 1, 2017 in Japan by Warner Bros. Pictures. Directed by Fumihiko Sori starring Ryosuke Yamada, Dean Fujioka, and Tsubasa Honda. The director and casts attended the Anime Expo in LA, and Paris to promote the movie last July, and received positive feedbacks from the audience.
At Japan Expo in Paris, Director Sori answered a fan's query about pressure to which he answered with confidence, "There's a lot of faithfulness to the original work [in the film] so I made [the film] while thinking that fans of the original work would definitely enjoy it and didn't really feel any pressure. I had no worries (haha)." Lastly, Director Sori closed the event with this message, "I really felt everyone's enthusiasm so I'd like to create a work that doesn't betray your expectations. Please don't worry (haha), and please watch!"
During the Panel at LA Anime Expo, the manga creator, Arakawa-sensei have a message.
[Arakawa-sensei's message interpreted:] So the manga I feel like is my child, I created it, and all these spin offs and other iterations of it, the anime, the games, everything else that you take, it really feels kinda like my grandchildren, and here they are flying, leaving the nest, exploring, you know i'm really really proud to see them leave the nest like this. And I got to take a look at the footage as well. And it really felt like all these characters I created are there, present in our world. Ryosuke, the way you played Ed was so kakkoi. Everyone out there throughout the world, I hope you take really good care of my grandchild when he goes to see you!
I think the messages from the Director and Manga Creator is enough reason to anticipate the movie plus all the awesome cast and the trailer! The hype is real! I'm so excited! 😀
For movie updates, you can visit the Official Website here. ❤